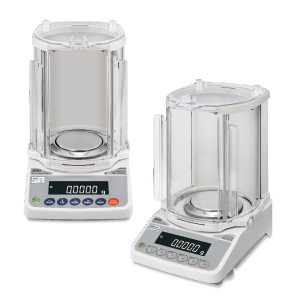 The HR-A Series of Compact Analytical Balances are fast, accurate and reliable. They feature solid construction based on the A&D Super Hybrid Sensor (SHS) technology which has delivered consistent weighing results day-in and day-out in thousands of laboratories and production facilities worldwide.
The HR-AZ models add highly reliable internal calibration. One-touch automatic calibration ensures consistent balance accuracy.
The HR-A and HR-AZ meet today's demanding needs in:
Laboratory
Quality Control / QA
Production
environments and deliver performance with convenience in a compact footprint.
Special Features:
Removable, shatterproof breeze break with antistatic coating
Compact footprint: 20x30cm / 8x12in.
GLP/GCP/LIMS/ISO Compliant
14 weighing units and functions: g, mg, oz, ozt, ct, dwt, GN, mom, tael, tola, %, pieces,density, statstical function and user-defined units.
Automatic internal calibration
Underhook weighing
Clear, reverse-backlit LCD
Specifications:
A&D – HR-250AZ
Capacity
252g
Readability
0.1mg
Pan Size
Ø 90mm / 3.54″
Minimum weighing value
0.1 mg
Repeatability (Standard Deviation)
0 to 200 g: 0.1 mg / 200 to 252 g: 0.2 mg
Linearity
±0.3 mg
Stabilization time (when set to FAST under good environment conditions)
Approx. 2 seconds (factory setting is MID, whose stabilization time is approx. 3 seconds)
Sensitivity drift
±2 ppm/°C (10 to 30 °C/50 to 86 °F)
Calibration
Internal
Clock and calendar function
Yes
Operating environment
5 to 40 °C (41 to 104 °F), 85% RH or less (no condensation)
Display refresh rate
5 times/second or 10 times/second, selectable
Display mode (units of measure)
g, mg, oz, oz-t, ct, momme, dwt, grain, tael, tola, pieces (counting mode), % (percent mode), DS (density mode), user definable functions
Capacity vs readability (Other units of measure)
3.59 oz x 0.00001 oz
3.27 ozt x 0.00001 ozt
510 ct x 0.001 ct
65.5 dwt x 0.0001 dwt
27.2 mom x 0.0001 mom
1574 GN x 0.002 GN
Counting mode
Minimum unit mass: 0.1 mg
Number of samples: 10, 25, 50, or 100 pieces
Percent mode
Minimum 100% reference mass: 10.0 mg
Minimum 100% display: 0.01%, 0.1%, or 1% (depends on the reference mass stored)
Interface
RS-232C standard (see also options below)
Applicable calibration weight values (g)
250, 200, 100, 50
External dimensions
198 (W) × 294 (D) × 315 (H) mm / 8 (W) × 12 (D) × 12.4 (H) in
Net weight
3.5 kg / 7.8 lbs
Power supply
AC adapter
Power consumption
Approx. 11 VA (supplied by the AC adapter)